Welcome to Alkaline Water Systems, Tyent Water Ionizers
2022 Water Ionizer of the Year
Why Tyent
Why Tyent
20 Reasons Why Tyent Leads the Industry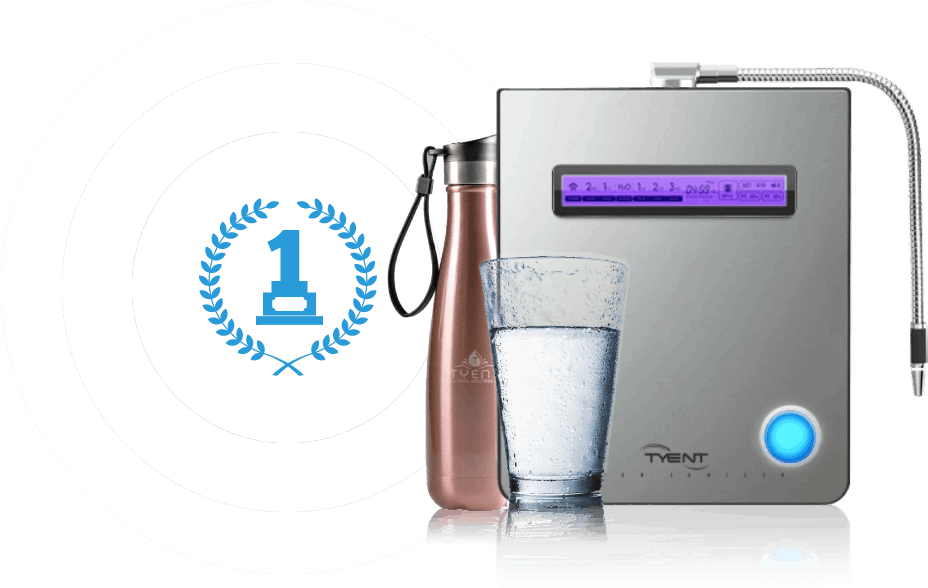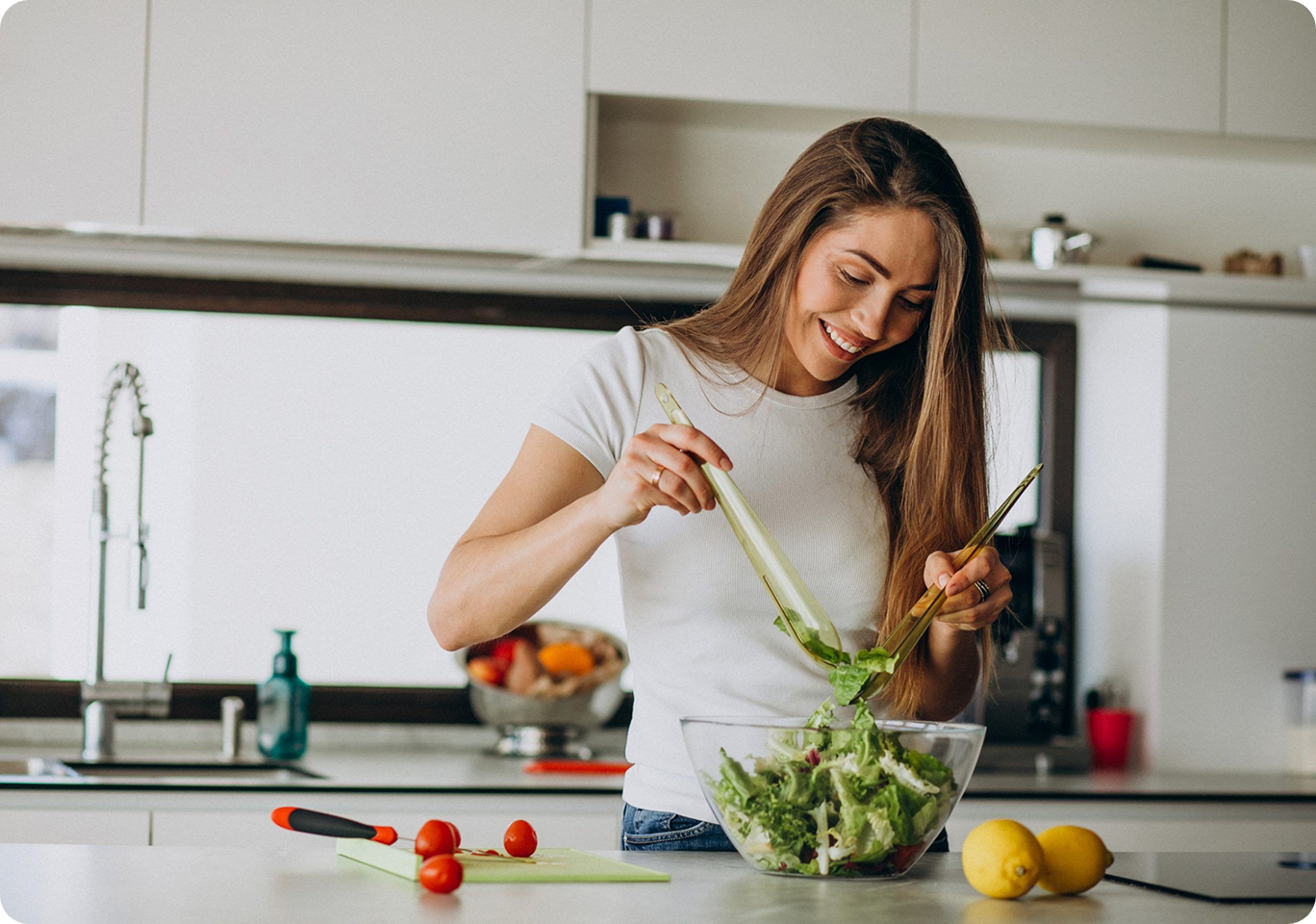 When we set out to create the highest-quality water ionization system in the industry, we realized that we had a key decision to make.
Do we take shortcuts and compromise quality in order to make our units as affordable as possible?
Or do we use the most powerful, cutting-edge, long-lasting components available to build our machines from the ground up, and make Tyent the definitive choice for those who
demand the best
for themselves and their family?
Largest Plate Surface Area in the Industry
Our 9-plate, 11-plate and 13-plate water ionizer units have the largest, thickest and highest-quality plates in the industry. Larger plates mean more power and greater alkaline and acidic water capabilities.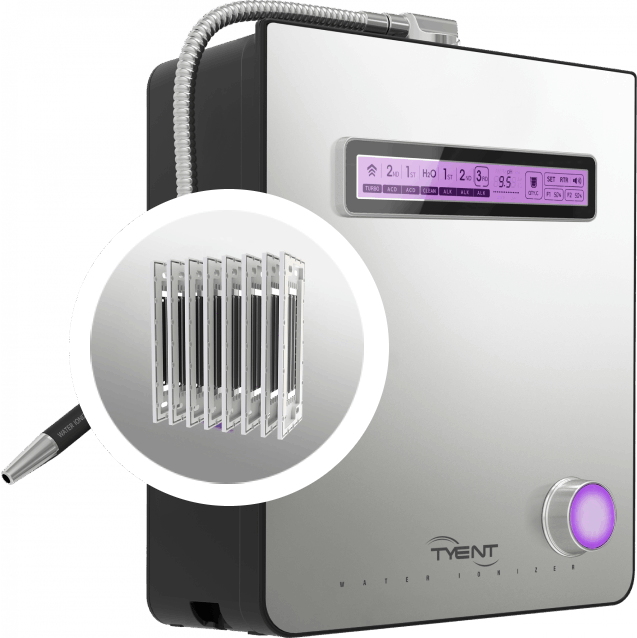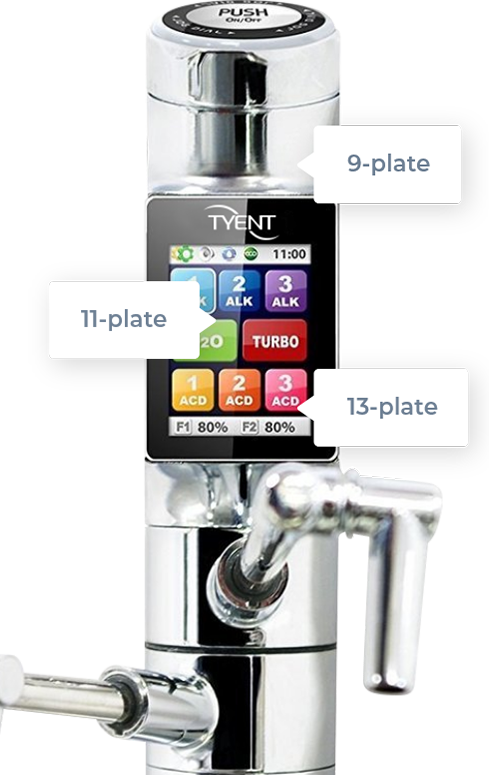 It also means stronger pH, a fact which makes Tyent the leader in producing the strongest negative ORP available on the market. Our medical grade, strengthened titanium plates are dipped multiple times in platinum and baked for astonishing performance and reliable longevity.
Our history speaks for itself: Tyent was the first water ionizer company in the United States to offer a 9-plate water ionizer. Next, we were the only company to offer two types of at-home 11-plate water ionizer units. Now, Tyent continues to lead the way in the industry with a 13-plate water ionizer machine for domestic use.
In other words, we have perfected what other companies can only imagine.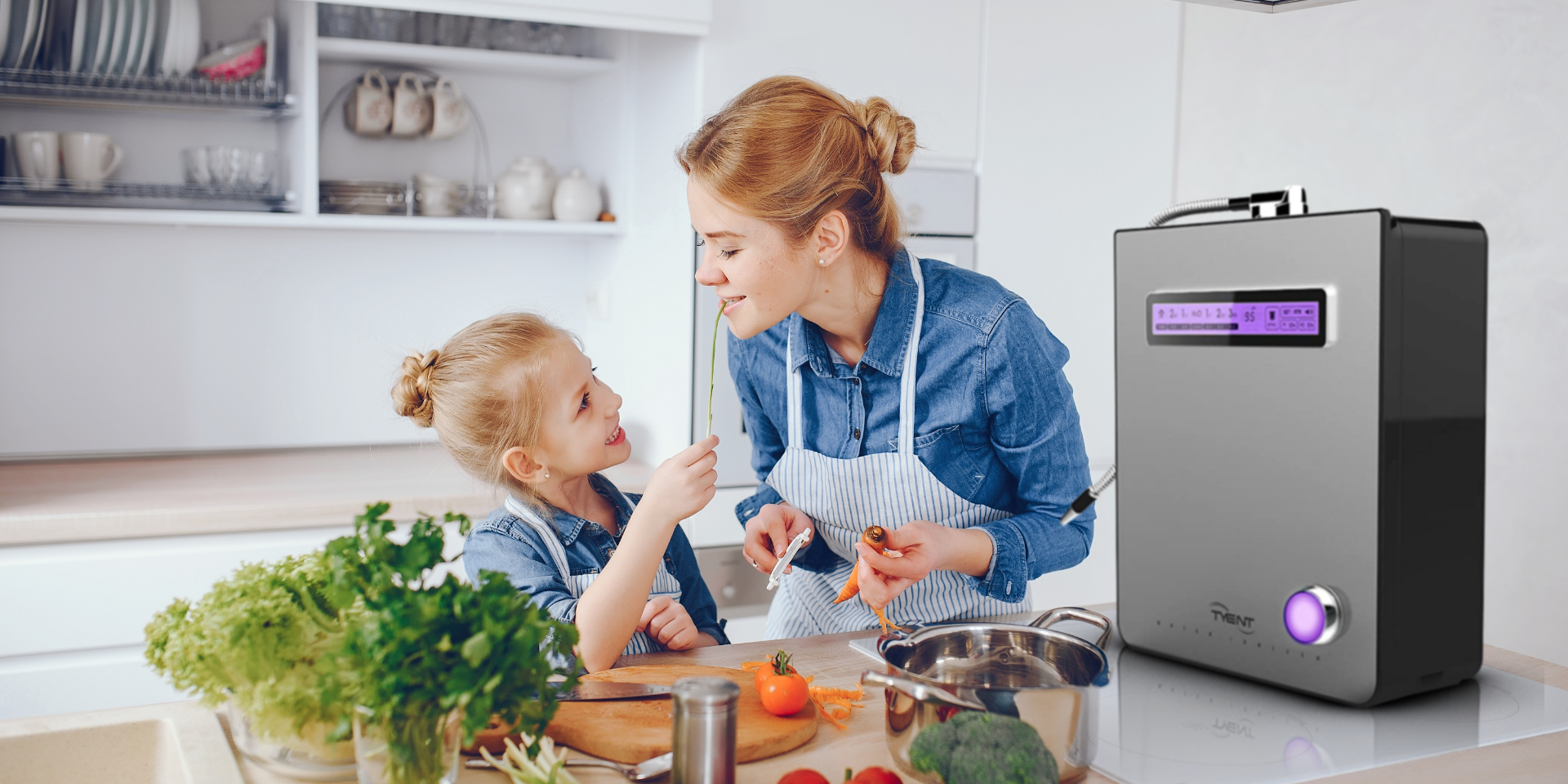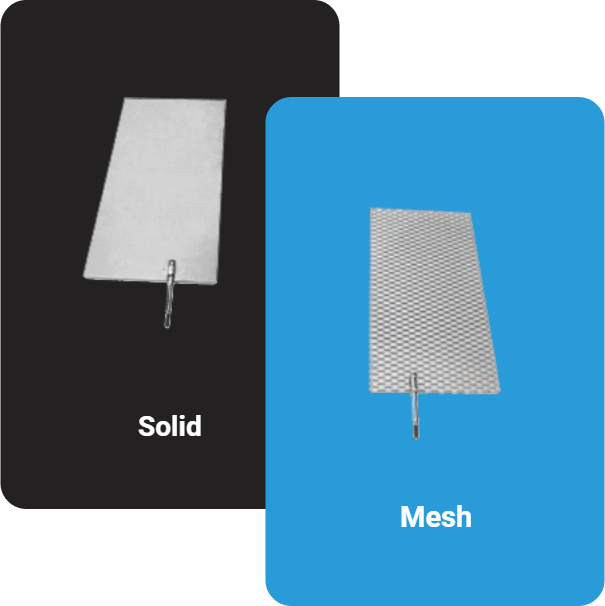 Solid/Mesh Hybrid Plate
All Tyent Water Ionizers feature medical grade Solid/Mesh Hybrid plate technology. Solid/Mesh Hybrid plates offer the durability of solid plates with the extensive surface area of mesh plates. Our world-class engineers began the Tyent plate-making process with the thickest and longest plates in the industry. Next, they incorporated cutting-edge electrolysis distribution methods for maximum electrical conductivity.
Most ionizers have plates that are either solid or mesh. Our engineers were dissatisfied with both designs. Here's why: solid plates offer strength but lack premium electrical distribution. Electricity is drawn to edges – think of a lightning rod with a pointed edge – which means that a solid plate's electrical current will only be transmitted around the outer edge of the plate.
So, mesh plates, with more edges to 'capture' electricity, must be ideal, right? The answer: only if they are strong enough to be durable and resilient. None of the designs that our engineers looked at met that vital brief.
The Tyent engineers went back to the drawing board, to design and develop something completely new to the industry – the Tyent Solid/Mesh Hybrid plate. Engineered according to Faraday's electrolysis distribution methods, this remarkable component combines incredible strength with groundbreaking electrolysis power.
The Solid/Mesh Hybrid design is astonishingly effective: small holes are drilled into the strengthened solid plate to dramatically increase the amount of surface area available for electrolysis. Next, the plate is dipped multiple times in platinum.
The Tyent Solid/Mesh Hybrid plate truly offers the best of both worlds, without compromise. Tyent is the only water ionizer company in the United States using this highly conductive hybrid plate design. Tyent's Solid/Mesh Hybrid plate will never break, crumble or leach.
Every Tyent USA Water Ionizer is built with the very best components and most advanced, cutting-edge features as standard. It is our thorough approach and attention to this level of detail that allows us to proudly offer a Lifetime Warranty on every water ionizer we sell.
SMPS PLUS® Power Supply
Three types of power supplies are used in water ionizer systems:
The oldest technology: power supply units (PSUs) with a heavy transformer
The newer technology: Standard switched managed power supply (SMPS)
The newest most advanced technology: SMPS Plus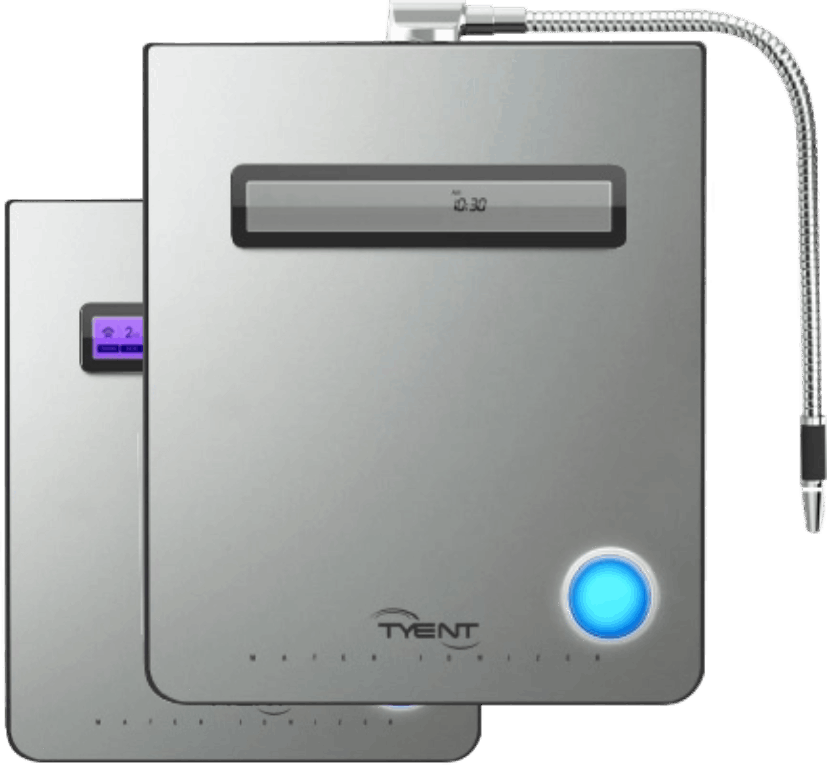 The older linear power supply units - known as PSUs with heavy transformers - are hefty and prone to overheating. Due to their simplicity, linear PSUs do not allow for voltage adjustability - the technology behind linear PSUs was developed in the early 1900s. This ancient circuit design is less efficient than newer technology. However, some ionizer companies still use PSUs simply because they are less expensive.
SMPS is the same technology used in flat panel televisions, laptop computers and other modern electronic devices. Compared to linear PSUs, SMPS units are lighter, smaller and more efficient overall.
Again, the Tyent engineers wanted a better solution for our customers. They pooled their extensive knowledge and expertise and enhanced a traditional SMPS to work specifically in a water ionizer. The unit they created was named the SMPS Plus. Tyent's SMPS Plus gives you 55 adjustable power settings so you can create the perfect glass of alkaline water. The power and efficiency of SMPS Plus enables Tyent ionizers to create strong alkaline and acidic water without using chemicals.
The logical question is, with all the advantages of Tyent's SMPS Plus, why do some companies still choose the cheaper, less efficient linear power supply in their water ionizers? It's a question of priorities. Our view here at Tyent is always that our customers deserve more and better.
Our 9-plate, 11-plate and 13-plate models are the most powerful in the industry. Combined with our Tyent Solid/Mesh Hybrid plates, these industry-leading components create ionized water with maximum levels of molecular hydrogen that harness all these beneficial properties – and no need for chemicals.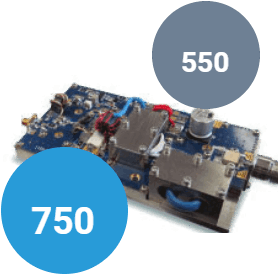 550 Watts to 750 Watts of Power
Our 9-plate and 11-plate models are the most powerful in the industry. The amount of power used combines with our Tyent Solid/Mesh Hybrid plates to create ionized water with the most beneficial properties. More power in an ionizer means that extreme Super Waters can be created without chemicals in a wider range of source water.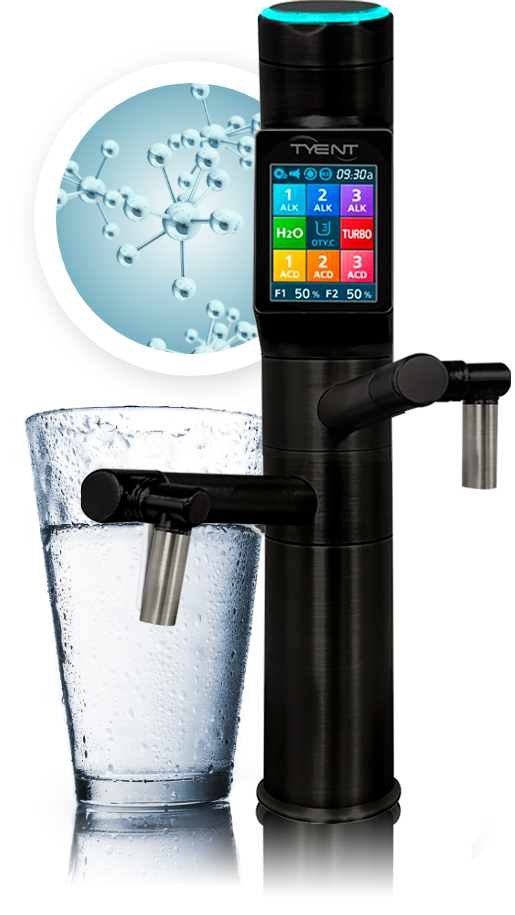 Extreme Filtration Capacity
In order to really benefit from drinking alkaline hydrogen water, the water must be clean.
Tyent Water Ionizers contain two filters, offering a customized multi-stage, sophisticated system designed to cleanse your source water of impurities and toxic contaminants. Tyent Ultra filters feature a .01 micron filter media, equal to that found in kidney dialysis machines. Our filters are also the physically largest in the industry.
Here, size counts for a lot. The size of a water ionizer filter has a direct impact on the purity of the ionized water that pours into your glass. Water passes lengthwise through the long filters, which means that the water is in contact with the filter for a longer period of time. The more media water has to pass through, the cleaner it is.
Nothing beats a Tyent water ionizer for filtration power.
Forever Guarantee
Our Lifetime Warranty does not contain the word 'limited.'
Only intentional damage or damage that results from dropping the unit is not included. Your investment is fully covered, for life.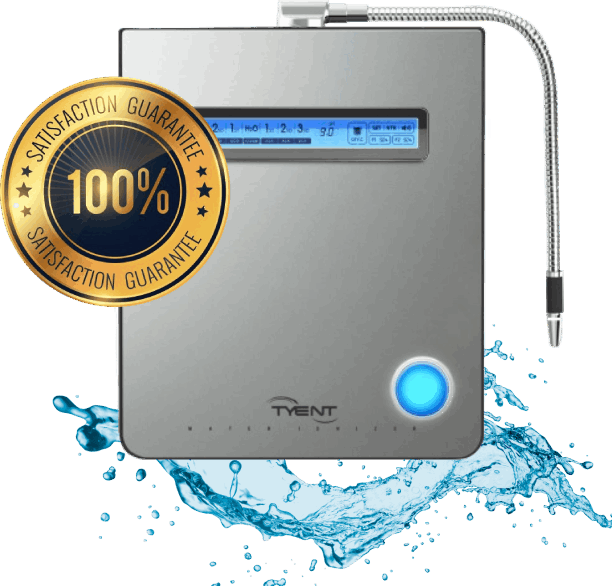 Super Water Capability
Tyent coined the term "Super Water," and Tyent is still the sole producer of machines with the largest Solid/Mesh Hybrid plates and enough power to produce Super Water without chemicals. Super Water means – for example - that our 11-plate units have a range of 2.0 to 12.0* on the pH scale, while our 13-plate water ionizers have a range of 1.7 to 12.5* on the pH scale.
Water with a pH of 2.3–3.5 can be used as an antiseptic and all-natural sanitizer for surfaces. Water with a pH of 10 and higher is great to use for removing oil-based herbicides and pesticides from fruits and vegetables, for removing stains and also for cooking.
*Depending on your source water, the all-new Tyent UCE-13 Turbo and ACE-13 Turbo water ionizers have a negative ORP level of up to -1150 ORP.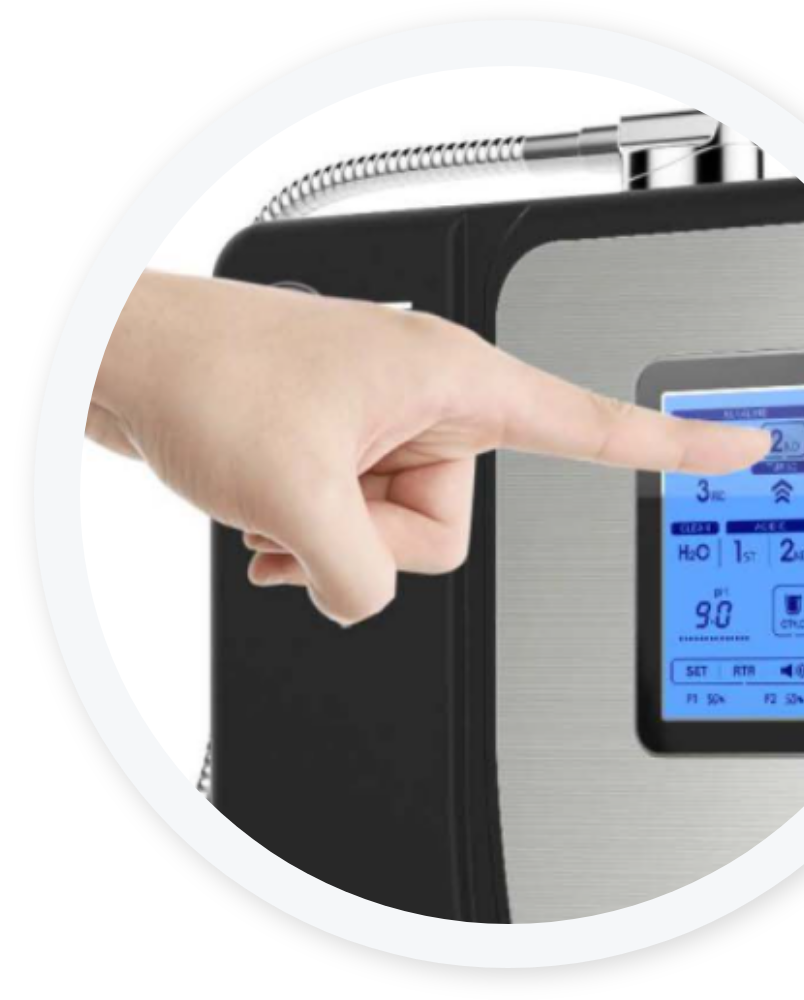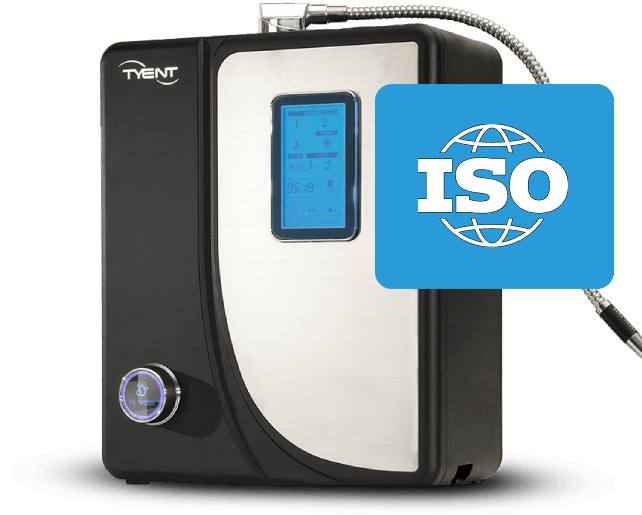 ISO Certifications
Our manufacturing facility is both ISO 9001 and 14001 certified. The International Standards Organization (ISO) is responsible for certifying facilities for quality and consistency in product manufacturing. ISO certification ensures the lowest possible defect rates and confirms that the manufacturing facility operates in a manner that is safe for workers and the environment.
South Korean Ministry of Food and Drug Safety (MFDS) Approval
Our machine is a certified medical device in Korea and is used by thousands of doctors across Asia.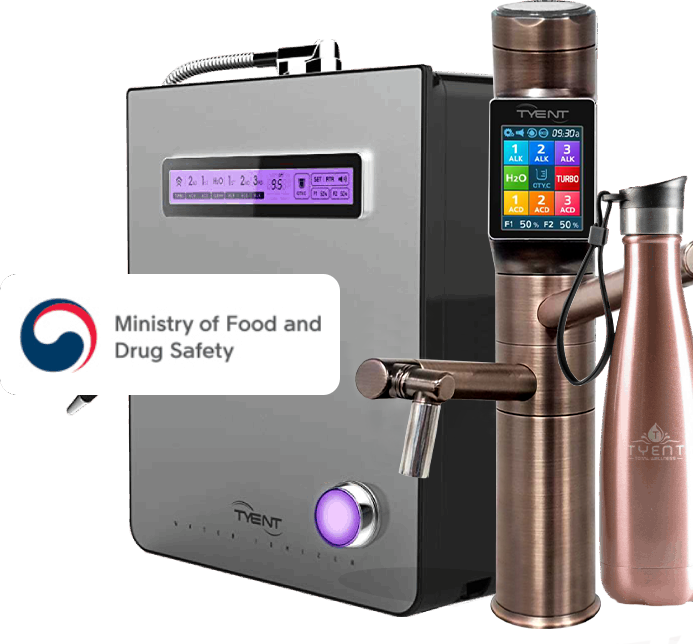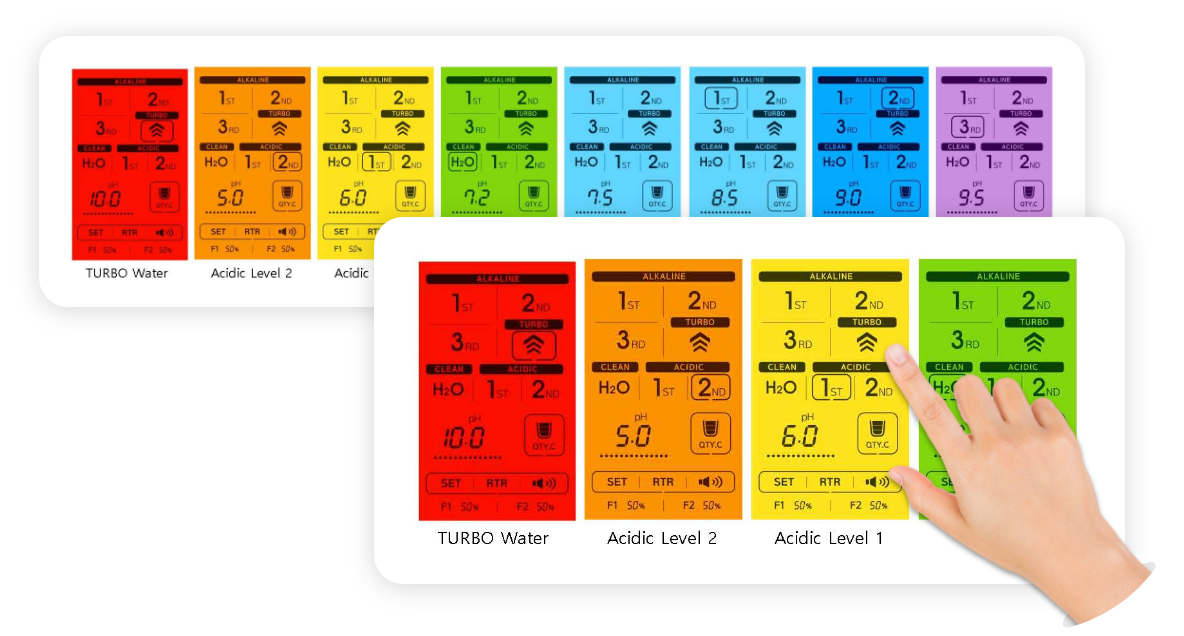 Fully Adjustable Presets
Tyent USA was the first company to offer water ionizers with full adjustability within each alkaline and acidic preset.
Our advanced computerized SMPS Plus power system gives you 55 adjustable power settings so you can create the perfect glass of ionized alkaline water, whatever your source water.
The water that flows from your faucet has specific characteristics. Tyent's advanced computerized control system ensures optimal performance based on your unique source water. Tyent's adjustability option will give you the flexibility to create great water, no matter where you live.
One-Touch Technology
Our machines are the only machines in the industry that have true one-touch technology. With only one touch of any icon on the control panel, you can have clean, healthy water anytime you want. Tyent water ionizers are easy enough for children, seniors and everyone in between to operate with a single touch.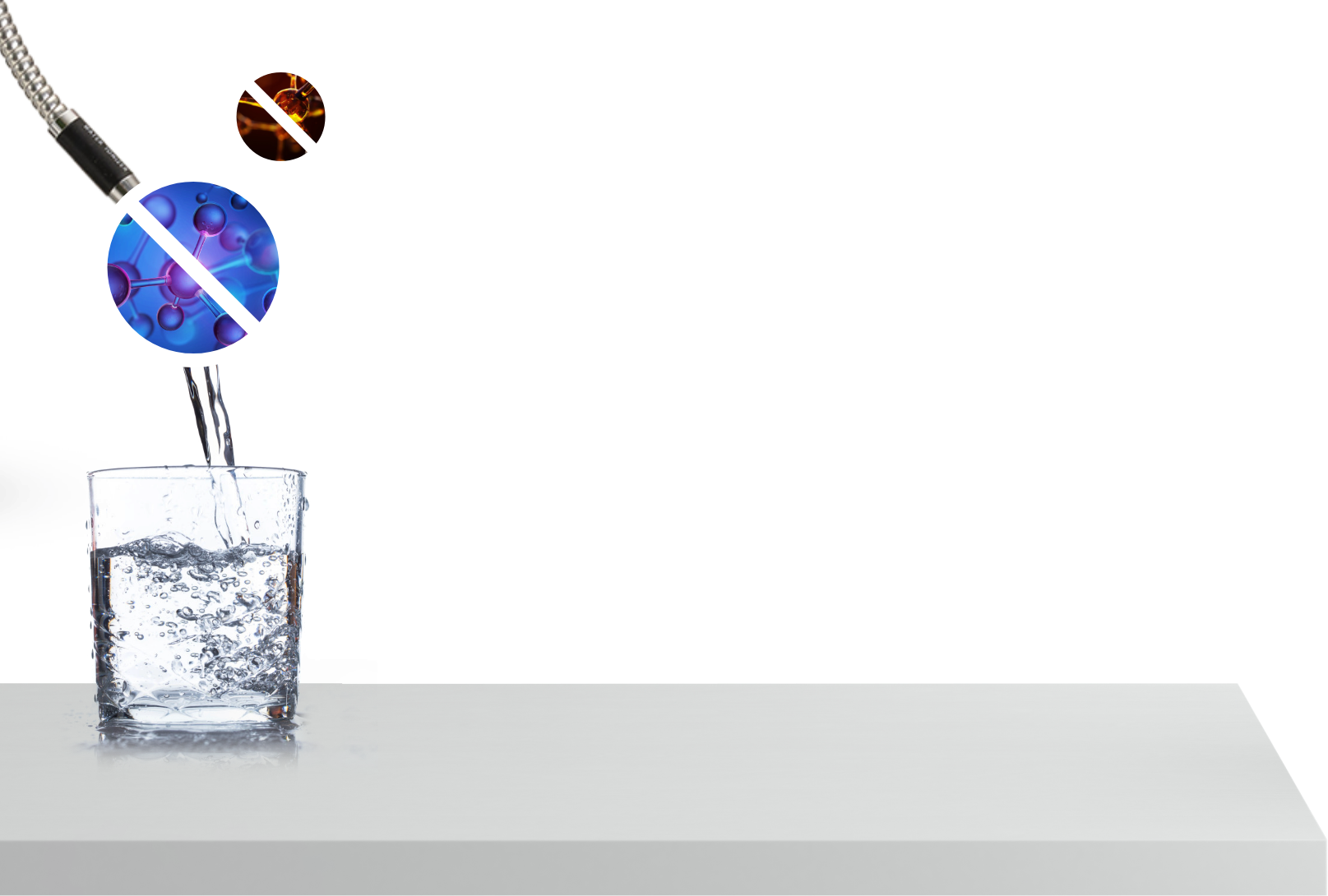 Chemical and Lead-Free
Tyent's large plates and adjustable power settings enable our range of water ionizers to reach low acidic pH levels and high alkaline pH levels without the use of dangerous chemicals.
Tyent units are certified chemical and lead-free, which is why so many health professionals and wellness centers prefer Tyent over any other water ionizer manufacturer in the industry.
Insist on a chemical-free machine. Sellers of chemical-based ionizer machines will try to persuade you that the chemicals they use are risk-free and don't reach your glass, but those chemicals travel through the same water cell that your drinking water comes from.
It's implausible that every trace of the chemicals will be eliminated – is that a risk you want to take?
Technologically Advanced
Tyent water ionizers are the only ionizer machines that feature technology advanced enough to be written up by Cnet, Discovery and Gizmodo.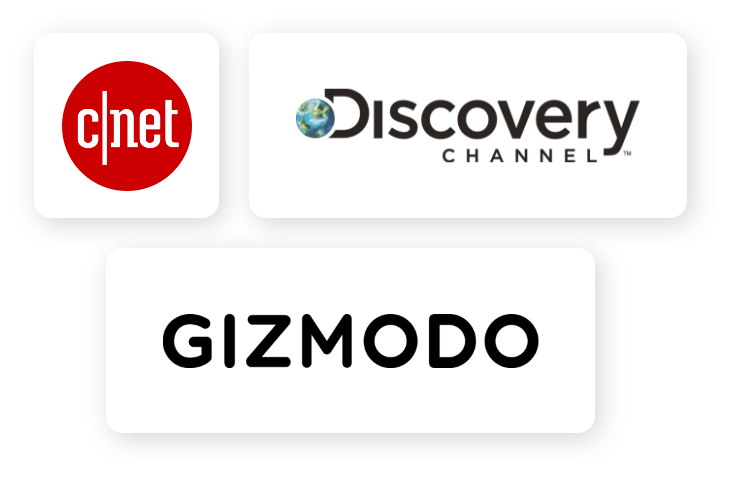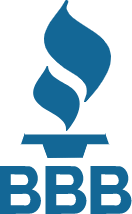 Better Business Bureau A+ Rating
An A+ rating from the Better Business Bureau (BBB) is what companies strive for. The BBB's vision is to create an ethical marketplace where buyers and sellers can trust each other. The BBB is a well-recognized and highly respected organization that rates companies based on its Standards of Trust. Tyent USA has an A+ rating from the BBB.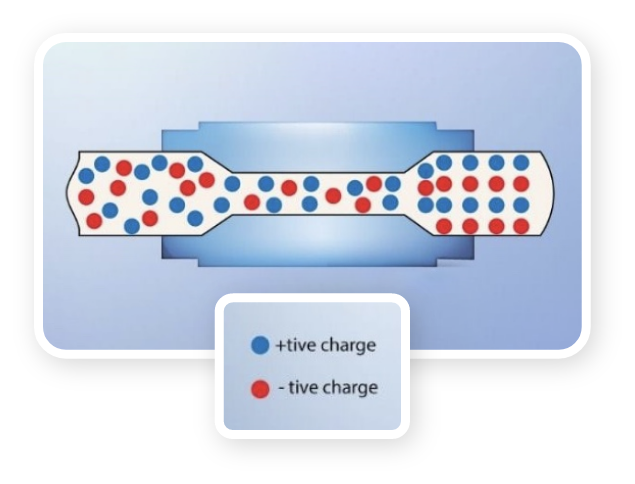 PAST Cleaning System
Tyent Water Ionizers use an automated Polarity Anti Scale Technology (PAST)—one of the most advanced cleaning systems in the industry. This automated cleaning cycle is triggered by both a timer and an internal sensor to ensure minimal mineral scale buildup on the electrodes for long-term performance. Better cleaning means longer-lasting components and healthier water.
Highest Antioxidant
Production Levels
Our bodies need antioxidants to protect us from the harmful effects of free radicals.
Free radicals cause damage to our cells and contribute to disease and premature aging. Antioxidants help reduce oxidative affliction and free-radical damage caused by an assortment of daily factors such as UVA/UVB exposure, stress, pollution, pesticides and more. Tyent Water is packed with powerful natural antioxidants. Tyent Water Ionizers have the highest antioxidant production levels available in ionized alkaline water.
Customized Pre-Filter Options for Any Source Water
Pre-filters are available for all Tyent units so you can adapt your water ionizer to any type of potable source water.
Our Tyent team can recommend the right pre-filters for you, to give you the very best, most delicious tasting water possible from your Tyent unit.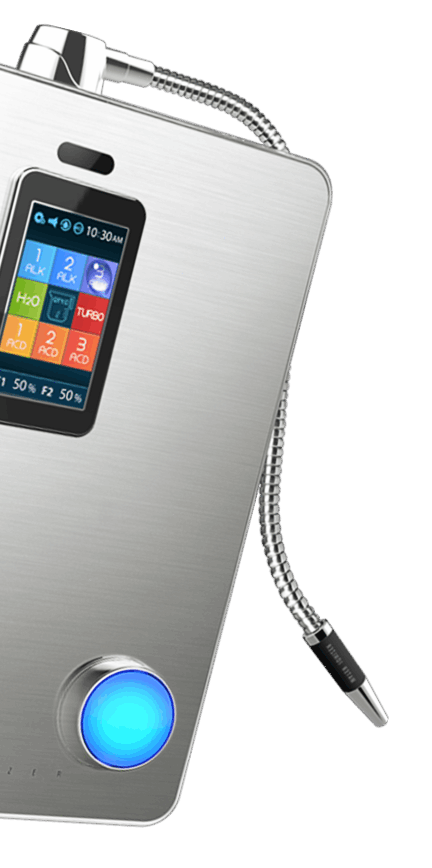 Price/Cost
Buying bottled water is much more expensive than investing in a water ionizer. On average, Tyent Water costs about six cents per glass. Drinking Tyent Water is much more cost-effective than purchasing bottled water, and it's better for the environment too!
With the Tyent water filter attached to your faucet, you have an unlimited supply of clean water at the touch of a button.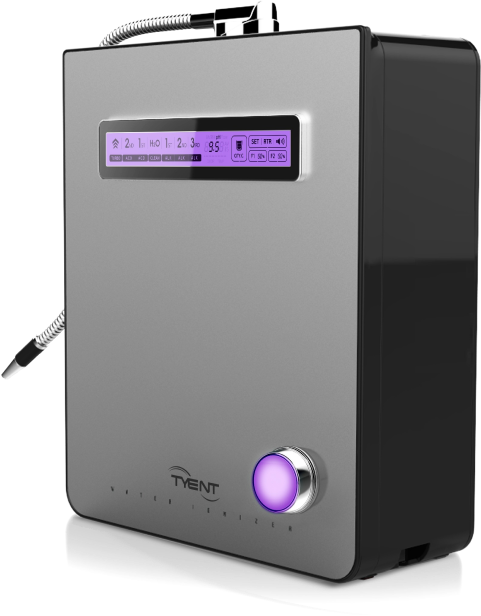 Aesthetics
Tyent water ionizer machines align beautifully with any kitchen décor.
All Tyent Turbo units offer sophisticated, one-touch use technology. Tyent makes countertop models and space-saving, under-the-counter faucets that have a beautiful chrome finish and a smartphone-inspired touchscreen.
Stylish in every kitchen, Tyent units have been featured in million-dollar homes throughout the USA. Whatever your style, Tyent Water Ionizers are sure to enhance it.